Invest in Your Life, Not Just Your Portfolio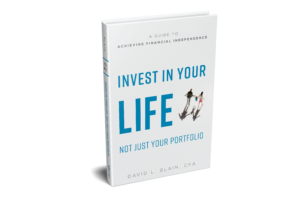 David's first book, Invest in Your Life, Not Just Your Portfolio, uniquely offers readers practical financial guidance. Rather than an investment how-to, they discover how to put their money to work for them to gain their financial independence as each person defines it. Through both storytelling and analyses, this book presents a revolutionary approach to defining goals and building a portfolio with a purpose.
As David writes, "I have walked with many such folks as they took the steps toward financial independence. In this book, I hope to guide you along your path, too. I can share with you the wisdom, facts, and concrete measures I know have worked for many others. I can show you how to build your portfolio to attain financial freedom, but what I cannot tell you is what to do with it once you get it. That is up to you to decide."
What others say about David's book: "If you're tired of all the financial misinformation pumped out in the media, this no-nonsense guide is perfect to help you take charge of your financial life. It's perfect for the business owner or highly compensated professional who wants a roadmap to winning the money game." —DAVID FINKEL, Wall Street Journal bestselling author, SCALE: Seven Proven Principles to Grow Your Business and Get Your Life Back.